Lifetime Warranty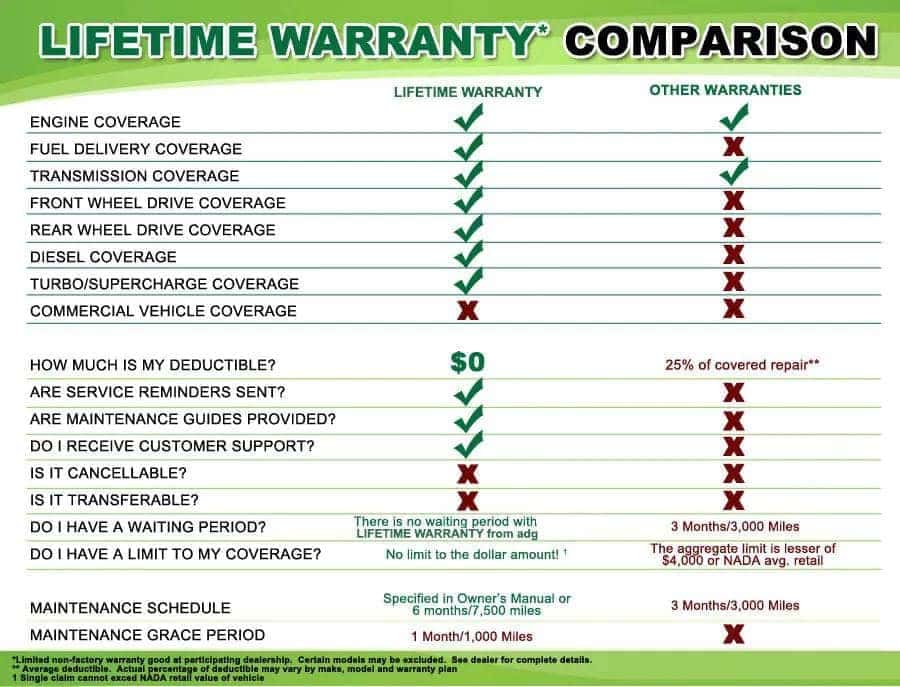 Lifetime Warranty Program FAQ
How do I make a claim if I have a breakdown?
Contact the dealer where you purchased the vehicle. They will handle it all from there! If you have any questions that you would like to ask us directly, you may call 1-866-494-1366 and speak with a claims specialist.
When are the claims specialists available to take my call?
Claim specialists are available Monday – Friday 8 a.m. to 8 p.m. EST and 9 a.m. to 5 p.m. on Saturday to answer all of your questions.
Is there a deductible that I need to pay when making a claim?
There is no deductible on the program. All parts and labor are covered 100%.
How do I know what maintenance is required to keep my Lifetime Warranty Program contract in force?
It is required that you maintain the vehicle with the selling dealer or a pre-authorized facility in accordance to the Manufacturer's Recommended Maintenance Schedule. To check to see the maintenance required for each particular make and model, please check Edmunds Recommended Maintenance. If you have any further questions, please contact a Claims Specialist at 1-866-494-1366.
How do I locate a dealer that offers a Lifetime Warranty Program on a car I would like to purchase?
You can locate a dealer by emailing us at [email protected] or by calling 1-866-494-1366.
What if I am traveling out of town and need to have a maintenance service performed while I am traveling?
Although you are required to perform every Manufacturer's Recommended Maintenance with your selling dealer or a facility which has been preauthorized, you may call us at 1-866-494-1366 and PRE-AUTHORIZE any maintenance service to be performed while you are traveling or not at the selling dealer. If you need assistance with this, you may also contact your selling dealer's service department for details.
What if I am traveling out of town have a breakdown that would be covered under my Lifetime Warranty Program?
Although you are required to have all repairs performed at your selling dealer, if you are over 150 miles or more away from your selling dealer, you may take your vehicle to any licensed repair facility to have your repair work completed. You may call us at 1-866-494-1366 for assistance or you may contact your selling dealer's service department for details. Please remember – all out of state repair service must be preauthorized or the repairs performed by an outside dealer will not be accepted.
If my car breaks down and the breakdown is covered by the Lifetime Warranty Program given to me by my selling dealer, am I required to pay for the repair and then wait to be reimbursed?
No, all repairs are paid by National Warranty Administration Network (NWAN) by credit card. Please be sure that all repairs are authorized prior to the repair being completed. All unauthorized repairs will not be covered.
What if I need to be towed or need a rental car while my car is being repaired?
Towing and rental car coverage is not provided by your Lifetime Warranty Program. However, if you purchased an extended service contract, your extended service contract will most likely provide that coverage for you.
What is a licensed repair facility?
Any repair facility or dealership that employs ASE (Automotive Service Excellence) technicians. ASE technicians are certified through a national non-profit organization to ensure the technicians competency in many areas of the automotive industry. Repair establishments with at least one ASE technician are permitted to display the ASE sign. Motorists should look for facilities that display the ASE Blue Seal of Excellence logo.
How do I know if an ASE certified technician will be the one working on my vehicle?
One of the advantages to taking your vehicle to a licensed repair facility is that if an ASE certified technician is not the individual working on your vehicle (say, for an oil change), they are still available to assist and oversee the work being performed. This ensures that the maintenance is being performed properly, and to the manufacturer's recommended specification.
Is a facility ASE certified?
No, not exactly. As mentioned earlier, the technicians themselves obtain these certifications. The facility itself is not certified, however, businesses with a high level of commitment to ASE (75 percent of service personnel certified) are entitled to a special "Blue Seal of Excellence" recognition from ASE. You will sometimes see this logo displayed inside the facility waiting area.